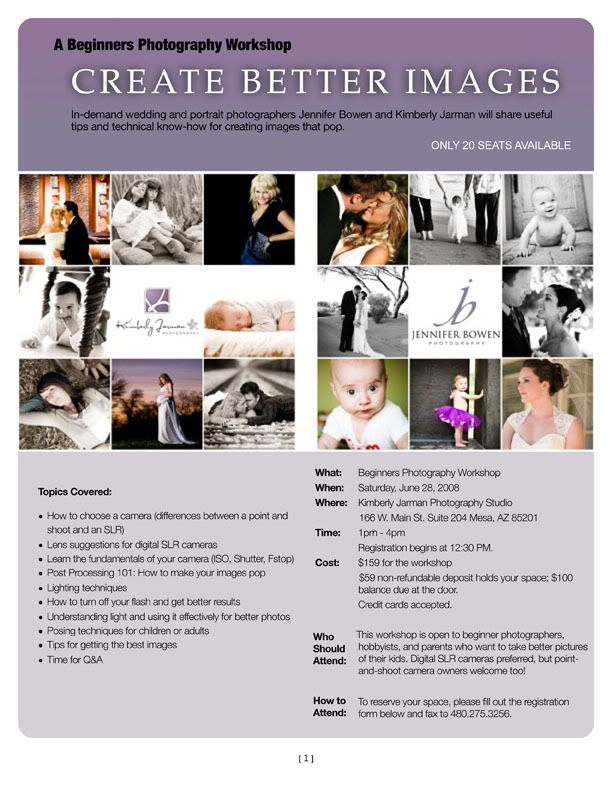 Well there is only one more week left until we have our photography workshop, so I wanted to post a little reminder!!

This workshop is for ANYONE who wants to learn more about photography! We are going to go over a lot of really good things to help make you a better photographer.

You can view the original post with more information here, but read below for some things that we are going to be going over.

Topics Covered:

*The best lenses for the least amount of money for digital SLR cameras (hint: it's not the one that came with the camera!)

*How to turn off the flash and achieve professional looking results, even in low light

*The fundamentals of shooting manually (where the magic really happens)

*Easy lighting tips and techniques to get the best results

*How to get the most out of your Point-and-Shoot (using ISO effectively, burst rate, and more)

*The fundamentals of composition (the rule of thirds, framing your subject effectively, reducing your background elements, and more)

*And much more, including time for open-ended Q&A

If you would like more information, please don't hesitate to contact me at 480.203.1090 or workshops@kimberlyjarman.com

The workshop is only 3 hours on Saturday, June 28th from 1-4PM in Mesa.

You can download the registration form here.

Please feel free to pass this info along if you know anyone else who may be interested....